November 14, 2013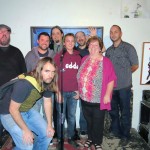 On November 13th, 2013, I performed at Luna's Cafe. I got in there. The show had definitely started on time, because I wasn't that late and it had already started. I was impressed by that. I didn't know I was going on until I was going on. That happens sometimes. I had to turn on my camera. The best thing about filming every set is that you forget you're filming it.
They said they wanted to drink. So I asked, so you don't want to laugh, you want to drink? And then they were like oh wait, we want to do both. Now, sometimes I wonder what the right way for me to handle a situation like that is. Do I have to multitask and try to make them drink and laugh? No. Because tonight, while on stage, I realized I could just leaving the drinking part to them, and I would take care of the laugh part. So that's what I did. First couple of jokes didn't hit too hard, but then once I got into the movie jokes they got into the jokes. I did Fargo/Argo, Chip Bag, and Che T-Shirt.
Then after the show Gwen Pol took some pictures of the comedians and in one of the pictures it looks like I'm being dry humped by Johnny Taylor, but I didn't even know until later because I didn't feel anything.
Here's a clip: http://youtu.be/vGFZ2trcG4Q