October 22, 2013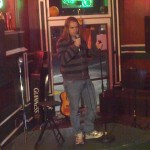 Roxanne, you don't have to run the red light, you've got plenty of time… I almost ran a red light tonight. Not sure why. It looked like additional lights for the next red light that wasn't that much farther? Maybe. I don't know.
Anyway, before that I did two sets. First I did the Scramble again, and then I went to the Boxing Donkey.
At the Scramble, they said they wanted to laugh, and hold me close. They said if I got held close they would laugh, but then they decided they didn't want to hold me close anymore. They just wanted to laugh. So I told the jokes and then waited around for some other comics that wanted to carpool to the Donkey.
Youtube: http://youtu.be/sI2n2lY8WEQ
We went up to the Donkey and got to pick when we went on because Sam Bruno is so awesome and gives special privileges to comics that text that they're coming ahead of time. I should keep that a secret actually. I went on and they said they wanted to "woooooOOOooo." So I counted to three and we went "wooooOOOOoooo." Then I asked what they wanted to do now that we finished doing that. They said they wanted to do some hookers. But no one knew how to get hookers so we couldn't do it. I asked if there was anything else. They said they wanted to hear some awesome jokes by me. So I told them some old ones that I found, and then tried the few I've been working on lately.
Youtube: http://youtu.be/znsjp8qXZFo
Then before we left my friend from work peed on a bush by the street.