October 21, 2013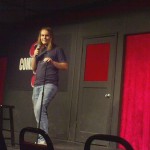 Today I ran by the river and I found a new trail to run on that was pretty dope. I guess it had always been there and I never knew. Anyway, that doesn't have anything to with comedy.
Tonight I went to The Comedy Spot Scramble and then On The Y.
At the Scramble I went on dead last. Four comics stayed to watch. I asked what they wanted to do. First they said dance, but they didn't dance. Then they said truth or dare, but one of them didn't want to do that. He wanted to laugh. So I told a couple of jokes. I messed around with the twerking on the air dryer part some to see if I could figure out a way to make it funnier. I need a better crowd to be sure if my ideas will work though.
Here's the evidence: http://youtu.be/xso-nXs5kwo
Then at On The Y it was pretty wild in there. There was this old crackhead guy walking around with lots of missing teeth just saying random shit. No one could get him to shut up or go away, but eventually he eased off some. He had said he wanted to stay high. The rest of the crowd just didn't seem to be able to figure out how to answer when I asked them what they wanted to do. They kept asking me what I wanted to do, since I was the comedian. I told them, "but you're the audience."
Instead of saying what they wanted to do, they kept saying what they wanted me to do. So then I would just ask again, emphasizing the word "you." Only twice did they get it. Once a guy said he wanted to hear an impression. The second time someone said they wanted to hear a joke, so I told one. I had also done an impression before. But still, even after that, they just weren't getting it. I actually kind of messed up at one point because one guy said he wanted me to do a backflip, and I explained that I couldn't do one when really I should have asked him what he wanted to do. Whoops.
The video: http://youtu.be/qQHHIcsxJWg